For some of the finest Mallard duck hunting in western Canada, we invite you to visit MOOSE MOUNTAIN OUTFITTERS located immediately north of scenic and historic Moose Mountain Provincial Park in SE Saskatchewan.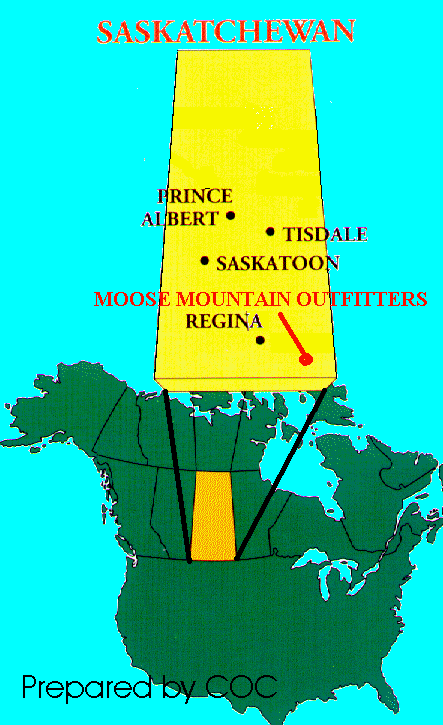 CARLYLE AIRSTRIP
Nearby CARLYLE, Saskatchewan has a 3,000 foot paved and lighted airstrip used by tourists, hunters and other visiting aircraft.
AREA ATTRACTIONS
wildlife viewing (elk, white-tailed deer, moose and birds)
recreation trails (hiking, cross-country skiing, snowmobile and horses
friendly small towns and villages with restaurants, hotels and local craft businesses
MOOSE MOUNTAIN PROVINCIAL PARK
Moose Mountain Provincial Park (established 1931) provides over 150 square miles of natural aspen forest, marsh and meadow habitat
The historic and picturesque Moose Mountain Provincial Park offers a wide range of attractions for visitors of all ages and interests. One of the first provincial parks in Saskatchewan, Moose Mountain Provincial Park has been designated a "NATURAL ENVIRONMENT " park and is an island forest in a sea of grass located in southeast Saskatchewan.
An elevated plateau of rolling hills, lakes and lush aspen forest provides the perfect setting to enjoy nature. Numerous birds are attracted to the park's lakes and woods such as wood ducks, bald eagle, golden eagles, ruffed grouse and sharp-tailed grouse. Common goldeneyed, bufflehead, great blue heron, double-breasted cormorant, terns and many other types of waterfowl inhabit the sloughs, along with beaver and muskrat. Elk, moose and whit-tailed deer roam the back country woods.
Hiking trails wind through some of the most breathtaking areas, giving you a great chance to see and photograph wildlife.